Puerto Rico is coming to MSU Denver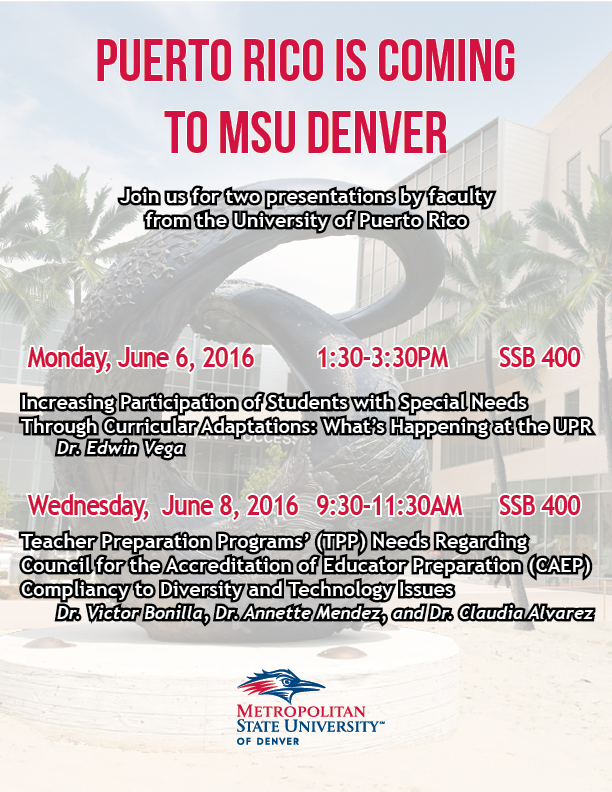 Hello all, let me introduce you to an exciting educational exchange program between MSU Denver and the University of Puerto Rico (UPR). This program exchanges intellectual capital with the goal of advancing UPR and MSU Denver's surrounding communities. This years program brings two presentation to the campus by UPR distinguished faculty and graduate students. The forum topics are, "Increasing Participation of Students with Special Needs through Curricular Adaptation: What's happening at the UPR" and "Teacher Preparation Programs (TPP's) needs regarding Council for the Accreditation of Education Preparation (CAEP) compliancy to diversity and technology issues". These topics may be of interest to you professionally or may resonate with your class curriculum and you might elect to bring your class to one of the forums.
Please review the flyer below for more information about the forums and contact Dr. Carmen Sanjurjo (csanjurj@msudenver.edu), Associate Professor in the School of Education, if you have any questions.
Please visit the University of Puerto Rico website at https://cie.uprrp.edu/intercambio-upr-msu/ to find out more about this exciting program.
Myron Anderson, Ph.D.
Associate Chair of the Teacher Education Department,
Director of the Education Resource Center